Posted on Wu Ming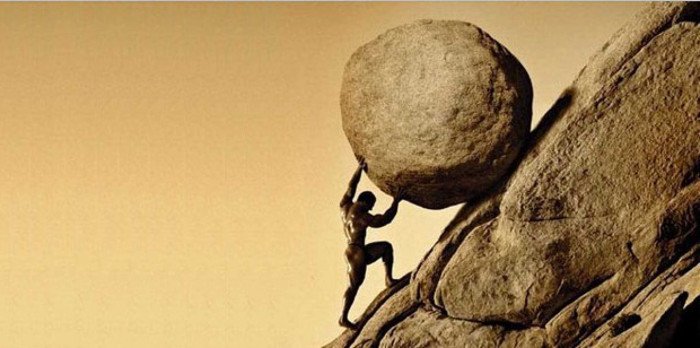 [For once, we too "start with us". We are writers. For about twenty years we have been "salaried" by you readers and readers. Every time you buy a copy of one of our books, we receive a percentage of the cover price, which varies according to the titles and contracts. Percentage that we divide among the members of the collective, "cue for all". That's our main source of income.
For a deep-rooted ethical and political conviction that has always accompanied us, our books are also downloadable for free from this same blog , perhaps in exchange for a donation, small change with which we pay the server costs and other technical expenses; but we have always made it clear that without book sales – paper books– we wouldn't live. And there is no mention of "broadening", but of making ends meet. In Italy, where very little is read, those who write books turn to a small minority of potential buyers.
This is actually a snapshot of the situation before the coronavirus emergency.
About a month ago, the whole world of cultural work was turned upside down. No worker or worker in the cultural supply chains knows if and how he will manage to overcome this phase. Especially those who were already in precarious conditions, today live in anguish, in limbo within limbo. Before long, a large part of the working class of those sectors – publishing, music, cinema, theater: all declared "non-essential" – will literally go hungry.
As for our sector, the bookstores are closed and it is not known how many will be able to raise the damper "after"; inside the publishing houses it is not yet known which projects will go ahead, which titles will come out and in what form, which contracts will be renewed, if and when the payments will arrive.
And we need to broaden the frame, because much more has always moved around writing and publishing books. In our experience, meeting with readers and readers has always been central, an indispensable moment of promotion of our titles but also of comparison, verification of the work done and inspiration for the future. In twenty years we used to grind kilometers in thousands of public meetings: presentations, conferences, workshops, courses, themed excursions … And also readings and shows, which in some cases helped us to round up the proceeds of the novels. Now even this aspect is frozen. Will musicians, actors and circus performers with whom we have collaborated in these years recover? And when and how will it still be possible to find yourself in a room full of people talking about books?
It is a world that has been pushed into a cone of shadow, and then we tell it, from the point of view of independent publishers and booksellers, with this article by Pietro De Vivo of the Alegre editions.
Recommended soundtrack: Pink Floyd , Sisyphus , from the Ummagumma album , 1969.
Happy reading. WM ]
by Pietro De Vivo *
1. A fatigue of Sisyphus
The feeling is that of going round and round, always following the same path without getting anywhere yet making an enormous effort. This is what it feels like to work with books during the Covid-19 crisis.
If the other sectors of culture – to which all our solidarity goes – are completely still, we live a paradox that makes our work similar to a Sisyphus effort: the whole chain of the book is theoretically functional except for the last link, the libraries. Many will have felt the feeling of being Sisyphus, while they chased decrees that within a few days completely changed the picture, tried to understand within what margins to act to survive, reorganized each time the laboriously restructured work after the previous decree. A frustrating schizophrenia indicates the totally improvised approach of this government.
Publishing was the last sector of culture affected by the decrees. Before there had been the closings of theaters and cinemas, the cancellation of concerts, the lockouts of museums, exhibitions and archaeological sites.
In fact, for some weeks, presentations, festivals and fairs had been canceled due to the invitation to avoid gatherings, then formalized in the decree of 9 March 2020 which contributed to postpone or cancel even distant events. But the paradox materialized when the decree of 11 March sanctioned the closure of retail businesses that do not sell "essential" goods, including bookstores.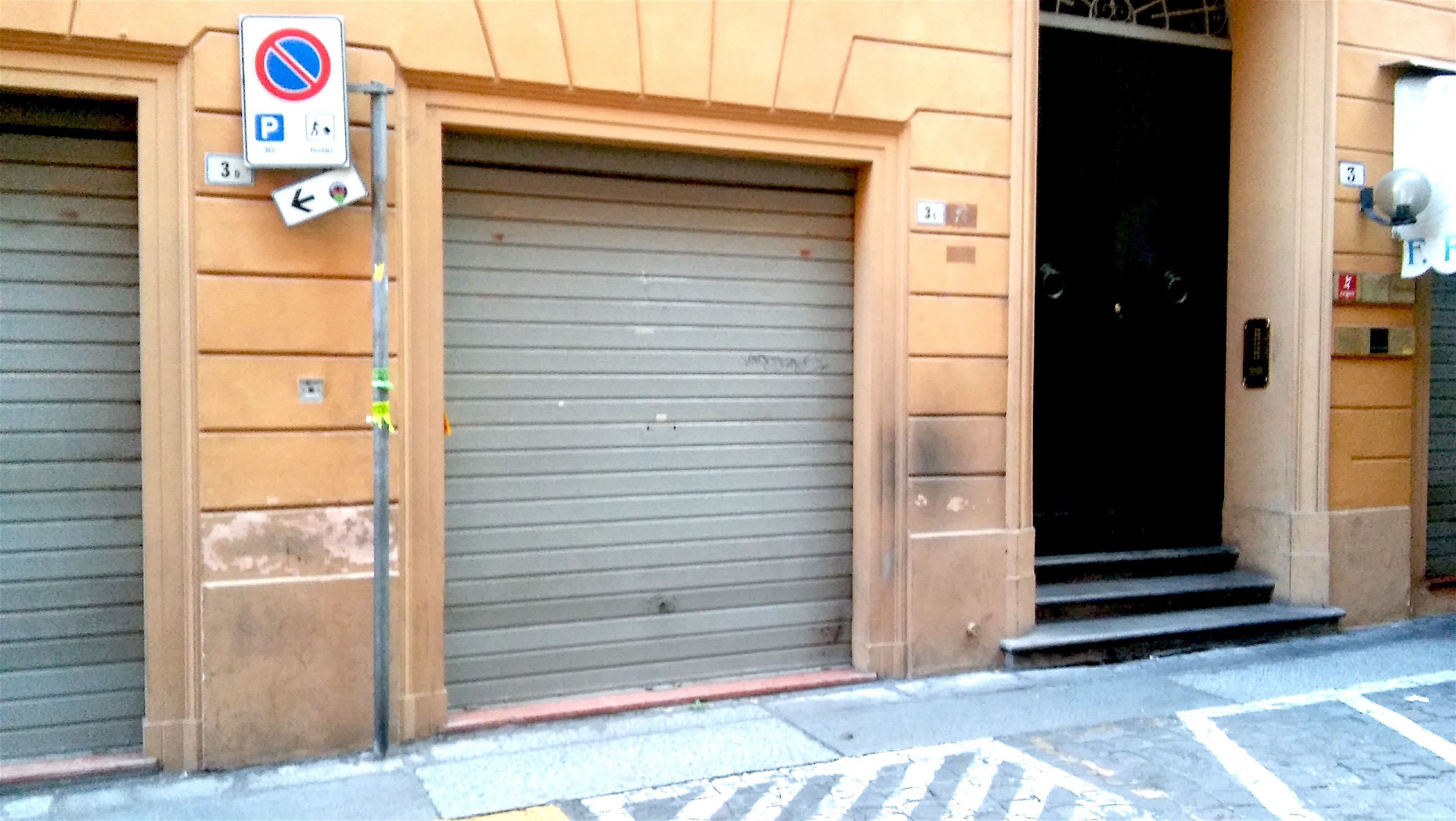 Trame bookshop, via Goito 3 / c, Bologna. Photo of March 30, 2020.
The short circuits are intertwined and arise from the spontaneous question immediately: what was the criterion adopted in the choice of the goods considered essential? Many have wondered why computer and telecommunications stores and perfumeries had been included and bookstores not. There is no need to throw the cross on perfumeries: body care and hygiene are sacrosanct, even in times of social distancing, as much as care and hygiene of the mind. The production and circulation of culture and critical knowledge are fundamental above all in times like this, moments of crisis in which there are no ready recipes and emergency measures are taken that can change our lives forever .
The rigor with which the libraries were closed clashes with the way in which Confindustria was allowed to keep open truly useless compartments such as the production of weapons – harmful productions in normal times, let alone in times of epidemic. It also clashes with the appeal on the importance of staying at home reading a book. How will it be possible to read this book if it is not found anywhere? Of course, online sales with home delivery are still allowed. And here a parenthesis is necessary.
2. Books like pizzas
We must give credit to the titanic efforts of the independent booksellers who are organizing for home delivery. Right from the start, some took steps to find resistance strategies without giving up precautions to avoid contagion: send the books, personally deliver them to the letterbox, exchange them by leaving them on benches or in shops still open such as tobacconists, putting their catalogs in available online or by phone so that readers can choose, making themselves paid virtually by wire transfers or credits in order to avoid contacts and respect distances. Now we are organizing real networks of libraries that perform the service throughout Italy .
It is no coincidence that these ideas are born from the independent ones: when the bookstores reopen the big chains will have much more commercial power to try to revive sales than the small ones, which were already in difficulty and have undergone the Amazon monopoly for weeks and of online stores.
3. Virtual sales, real exploitation
Aside from these home deliveries, the closure of the bookstores has given Amazon and a few other stores practically absolute control over the books. For more than ten days the Bezos company has done good and bad weather: unlike the government, it initially considered the books as basic necessities, certainly not for the sake of culture but for profit, and continued to sell them almost in monopoly, at most by lowering the shipping priority. Until March 22, the date on which he spontaneously decided to ship only a narrower range of goods, with an operation that behind the veil of responsibility probably has a much more material reason: selling practically anything and with the logistics clogged by the bulk of purchases, not being able to process every order, he simply optimized the activities,not to know where to put the money anymore .
Even without Amazon, online stores remain the main source of purchase for books, a nice gift for the usual few who dominate the supply chain. The main platforms in fact belong to the major publishing groups: Ibs, Libraccio and La Feltrinelli are controlled by the Feltrinelli group and by Messaggerie Italiane; Mondadori Store and Libreria Rizzoli belong to the colossus Mondazzoli; At the point he leans on Amazon. Out of these, very few remain.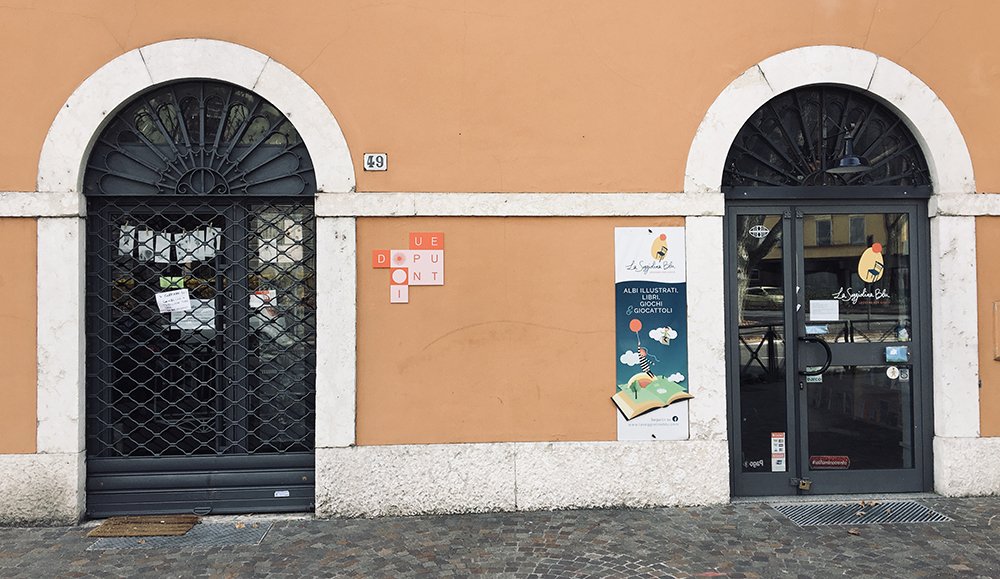 Duepunti bookshop, via S. Martino 78, Trento. Photo of March 30, 2020.
Even with regards to ebooks, the discussion is similar: Amazon controls the vast majority of sales, and – apart from those of Kobo and Apple, however international giants – the rest are divided mainly among the stores already mentioned.
Another sales channel is organized large-scale distribution (supermarkets): supermarkets and hypermarkets that have departments dedicated to books. It is not clear whether the lanes not reserved for basic necessities should be closed always or only on weekends, but the contradiction remains of the privilege granted to large-scale distribution, an already predatory sector of the economy. In addition, not all publishers can use this channel, because it provides specific distributors, other than those of bookstores, for which not all are equipped and which in any case favor large publishers and best sellers.
One could object: at least so I can buy a book even in times of social distancing. It is that it is difficult to understand how, for the prevention of contagion, the closing of the bookstores is a more effective measure than leaving free space to Amazon and a few others, with their huge crowded warehouses and couriers launched at full speed around Italy by the logic of profit made on their skin.
It will be said that even to get the books to the library you need logistics, but – to give an example in scale – between a single van per city that carries a thousand books destined for ten bookstores, and fifty vans per city that carry twenty books each intended for as many homes, there is a big difference in terms of mobility and the number of close contacts. In addition, bookstore deliveries would allow the pace of distribution to be slowed down, to ensure courier safety measures, compared to the Amazon model that makes delivery within 24 hours a cornerstone.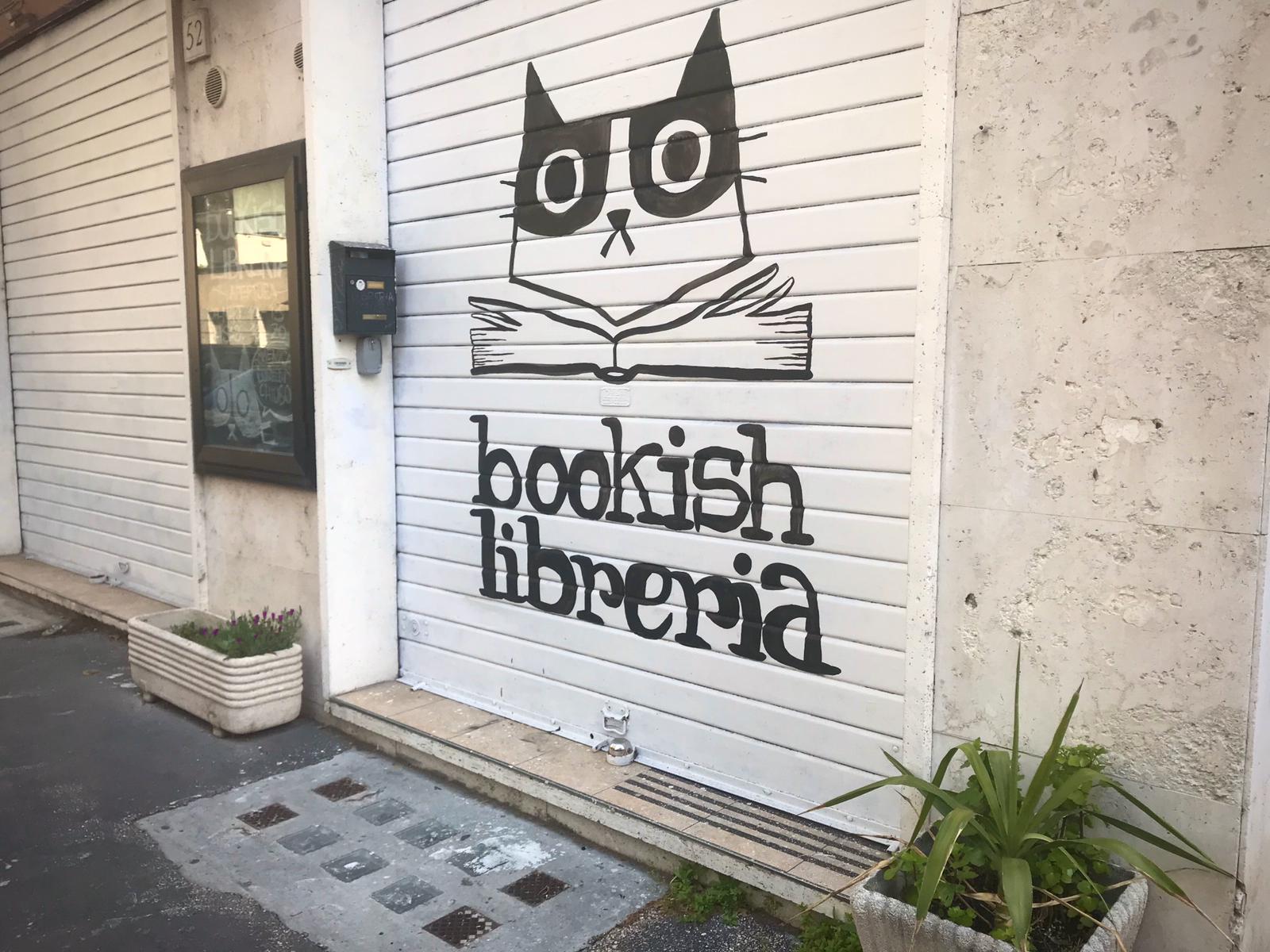 Bookish bookshop, Via Valle Corteno 50/52, Rome. Photo of March 30, 2020.
Above all, we must not forget that the bookshelves are already full of precious titles that have been out for some time and often obscured by the dizzying fury of the new releases, and the need to supply them while slowing down the pace could be a good excuse to rediscover published books but soon. forgotten.
4. Few large or many small?
Certainly the logistics sector should be completely rethought, not only in the current emergency, to lighten work rates and respect the health of workers. This could be conceivable in a commercial network based on small retail outlets spread throughout the territory, but the Amazon and large-scale distribution models exclude it a priori.
They are really less risky models, for the spread of the infection, than allowing to do a few tens of meters on foot, respecting every health precaution and at the same time taking a breath of air, stretching the legs, to go to the neighborhood library and , one by one, buy a book and then go home, how do you go shopping? Why not, for example, close only the large chain bookstores, which like the large-scale retail trade are an easier source of gatherings (and also owned by the usual large groups), and let the small independent ones scattered throughout the territory sell the books? Instead, it was decided to close all the bookstores, while allowing industries, call centers and practically all the great Italian entrepreneurship, even the non-essential one,
The online monopoly of the few giants is still guaranteeing some sales to publishers, but it will further contribute to the death of bookstores. This, in addition to being serious in itself, in the long term will also damage the small and independent publishing houses that in those booksellers often have among their best and most enthusiastic supporters, compared to the chain bookstores reduced now almost only to supermarkets.
Obviously one should not blame those who, taken by the need to read, are buying online. First of all it is a form of support; secondly, for sure the management of this emergency is not the fault of readers and readers, but of those who, decree after decree, have applied contradictory and inconsistent criteria, putting in serious difficulties the weaker actors and benefiting the older ones.
5. Travel into the future, dematerialization of bodies
We are in a time travel paradox: we remain motionless but we run very fast, like the DeLorean, launched at full speed towards the future. Because, as in other areas , the short circuit in which we find ourselves is accelerating processes already underway.
For some time, increasingly large shares of sales have been taking place online to the detriment of bookstores, with progressively lower percentages of earnings for publishers due to the disproportionate contractual power of the stores, and the weight of labor exploitation downloaded to logistics. The fear is that this consumer paradigm, after weeks and weeks in which it was practically the only way to get a book, will be further internalized and remain in the habits even once the shops are reopened.
Not only would this result in economic damage for publishers and bookstores, but it would also contribute to breaking up a social and cultural fabric made up of live relationships, meetings between readers and booksellers, participation in events organized by publishers, direct exchanges of views with the authors during the meetings . In short, the loss of the human and physical relationship at the base of the editorial profession.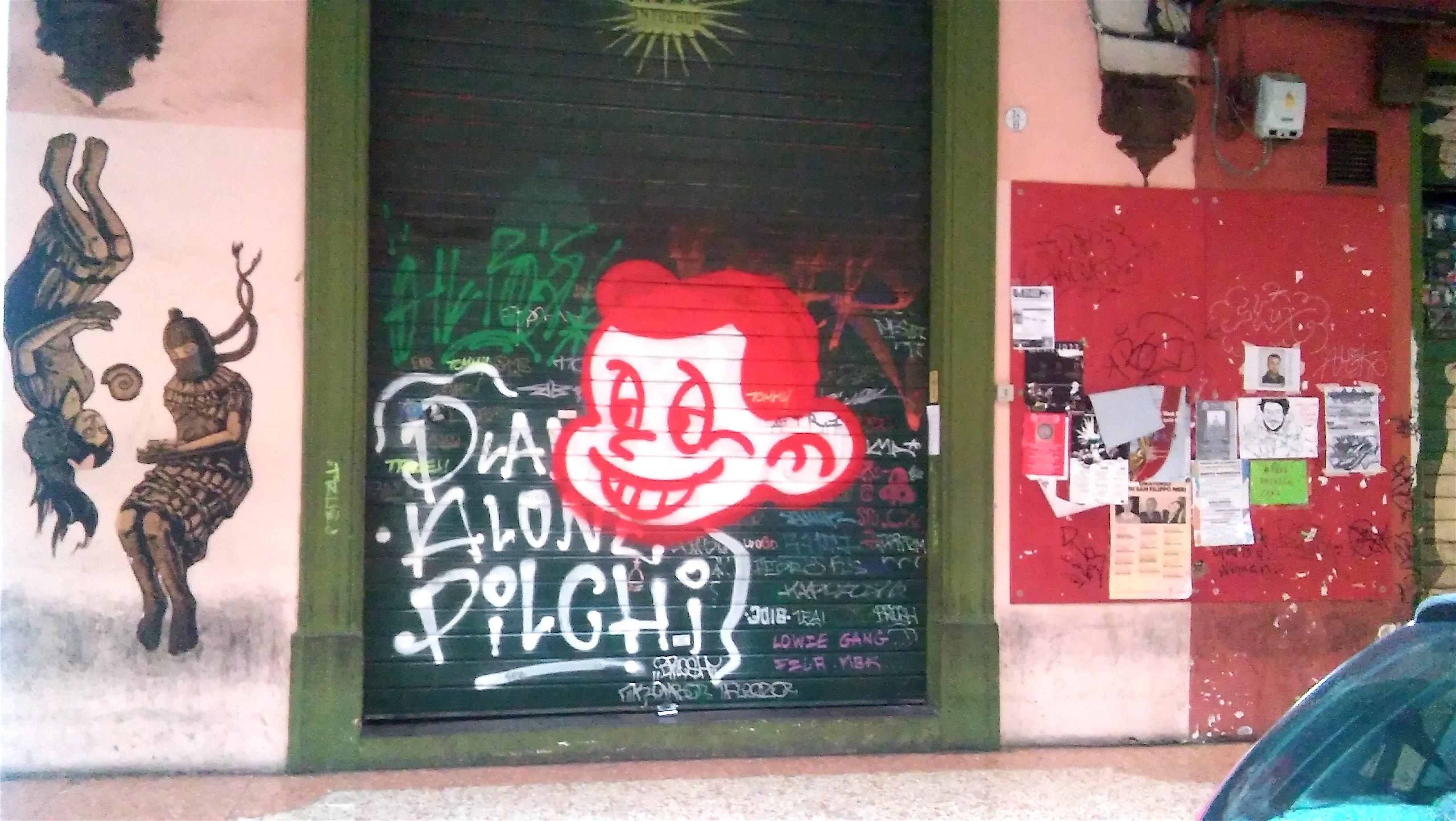 Modo Infoshop bookshop, via Mascarella 24 / b, Bologna. Photo of March 30, 2020.
Hundreds of book presentations, debates and readings have already been canceled throughout Italy, as well as festivals and fairs of all sizes and orders. Outside the mainstream kermesses, often and willingly managed with the logic of big events and in which, willingly or unwillingly, we are forced to participate for survival reasons, small and independent publishers – and even more militant ones – organize their own initiatives from below, with alternative models of sociability, diffusion of culture and sustainability. It is a way to spread critical knowledge and, above all, take to the streets, animate the territories, bring together readers, authors and publishers, horizontally, open to confrontation. At this moment it is right to avoid gatherings, but the indefinite continuation of this phase risks getting used to a solitary use of culture, individualizing, indoors of one's home and mediated by social interfaces and technological filters, as in the case of videos and presentations online.
It is also a serious damage for those who write books and try to make them a means of sustenance. Many organize real tour of presentations, a very widespread approach among those who want not only to live their job as a writer but also to circulate ideas by getting involved, meeting people, beating the country palm by palm – with dozens of even microscopic events – without forgetting the most remote and neglected corners of the mainstream circuits.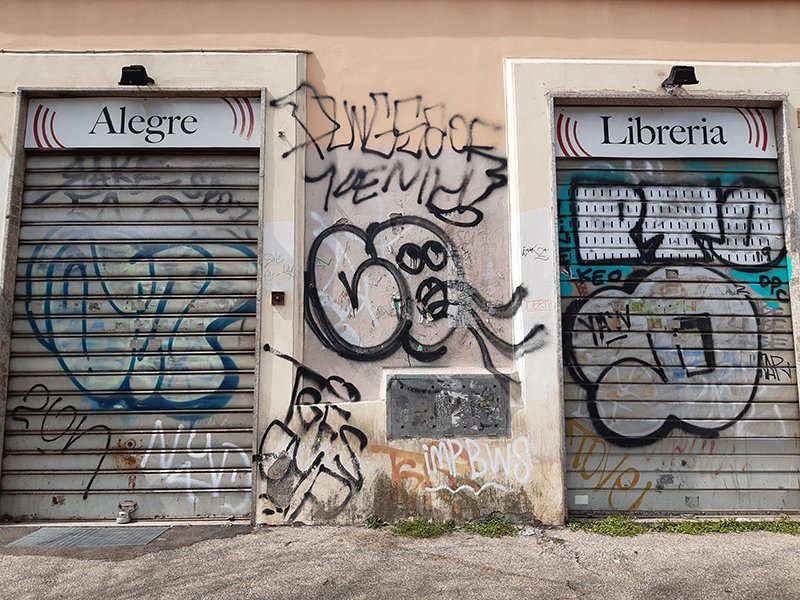 Libreria Alegre, Circonvallazione Casilina 72/74, Rome. Photo of March 30, 2020.
Commercial reasoning would push us to limit ourselves to two or three large event presentations located in large cities, in formal contexts and therefore less predisposed to a real dialogue, and for the rest try to chase the aseptic TV lounges and the pages of newspapers. We prefer a more widespread, though more tiring, spread of culture. A militant approach, both by small and independent publishers and by non-mainstream authors and authors, often built together with bookstores, cultural circles, reading groups, social centers.
After months of standstill, it will be very difficult to put all this back on its feet, and in the long run, if the model of the virtuality of the exchange compared to the meeting were to assert itself, it would be even more serious damage than the economic one.
6. VIP rhetoric
That in the management – both media and factual – of the danger of contagion class discrimination has materialized is evident not only from the material advantages enjoyed by some subjects. It is also noted in some narrative frames circulated since the early days, such as the calls to stay at home focused not on health needs but on how nice it is to stay in your home, touted by television stars directly from their villas with gardens or swimming pools, denoting a total detachment from reality made of people who live in small houses or single rooms, without open spaces, in condominiums without panoramic views, and ignoring that for many women the house is not a safe place at all, not to mention those who do not own a home Has he got it.
A similar detachment from reality was also perceived in the paradoxical media rhetoric of "staying at home, yes, but reading a book", just as the bookshops were closing.
One could argue that it is enough to read the books already present in the house. It should therefore be remembered that in Italy more than half of the population does not read even one book per year. It should be emphasized not for snobbery, but to specify that in the vast majority of Italian houses there are no books, and therefore if even someone who usually does not read had wanted to take advantage of the social distancing to do so, he would not have had the opportunity to buy a book if not on the web. But in the search engines of online stores, you usually search for what you already know you want. Probably those who are unfamiliar with reading but would like to take advantage of this period would find it difficult to find their way in the endless catalog of Amazon without a bookseller to give advice. As an extra potential readerhe could become an even more convinced non-reader .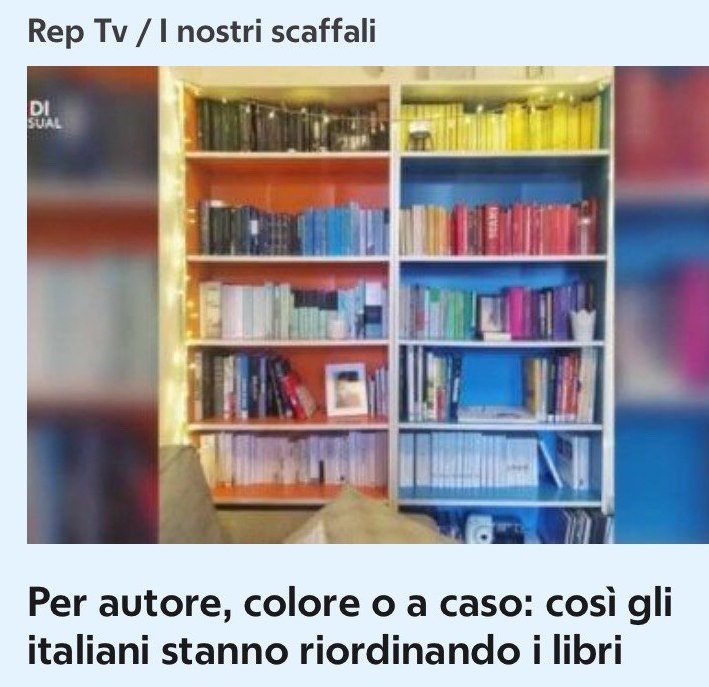 What idea of ​​the country does a person who does such a service have? Do you imagine it as an extended version of your living room?
On the other hand, for strong readers capable of devouring more books a week – especially having to spend most of the day at home – having the bookcases closed is almost like having bread rationed. It may seem "color", but it is to underline the nonsense with which during this matter the world of books has been managed, even in the tones used by the media. By now inviting those at home to read is almost like telling them to have a good swim. If books are not considered basic necessities, appeals to reading cannot be made, it is a cultural contradiction in terms, a mockery that adds up to the damage.
Other VIP appeals have come for publishers – as well as other cultural operators, actually – to provide some of their products (ebooks, audiobooks) for free in order to give people something to do. It is sacrosanct to want to help those who are forced into four walls to pass the time, the problem remains of which subjects the cost of this help should be passed on to. Publishers are in serious difficulty: even if they want to, they can hardly afford gifts lightly, and those who make these appeals show that they do not know the world of printed paper. It's okay to be in solidarity with those at home by giving them a book, but why not ask those who have enriched themselves for weeks enjoying a de facto monopoly? What if Amazon did it by delivering it for free at home, but paying it regularly to publishers?
7. Workers in the supply chain
The damage caused by this situation is affecting the entire book chain, not just publishers, printers, booksellers and authors. The figures at risk are many: translators, editors (often outsourced), freelance editors, editorial graphic designers, press officers, without forgetting the employees in general of large and medium-sized publishers, distributors, wholesalers and chain bookstores . Small publishers and independent booksellers are often the owners and employees of their own business, but those who work for larger companies suffer all the distortions of the labor market that has been precarious by years of counter-reforms: outsourcing of editorial and graphic work, use of serviceand agencies, downward competition between external workers such as translators, use of free internships and internships to make up for editorial work for free, etc. There is a risk that large publishing groups will pass on the cost of the crisis to these figures. The same can be said of male and female workers in distribution and promotion.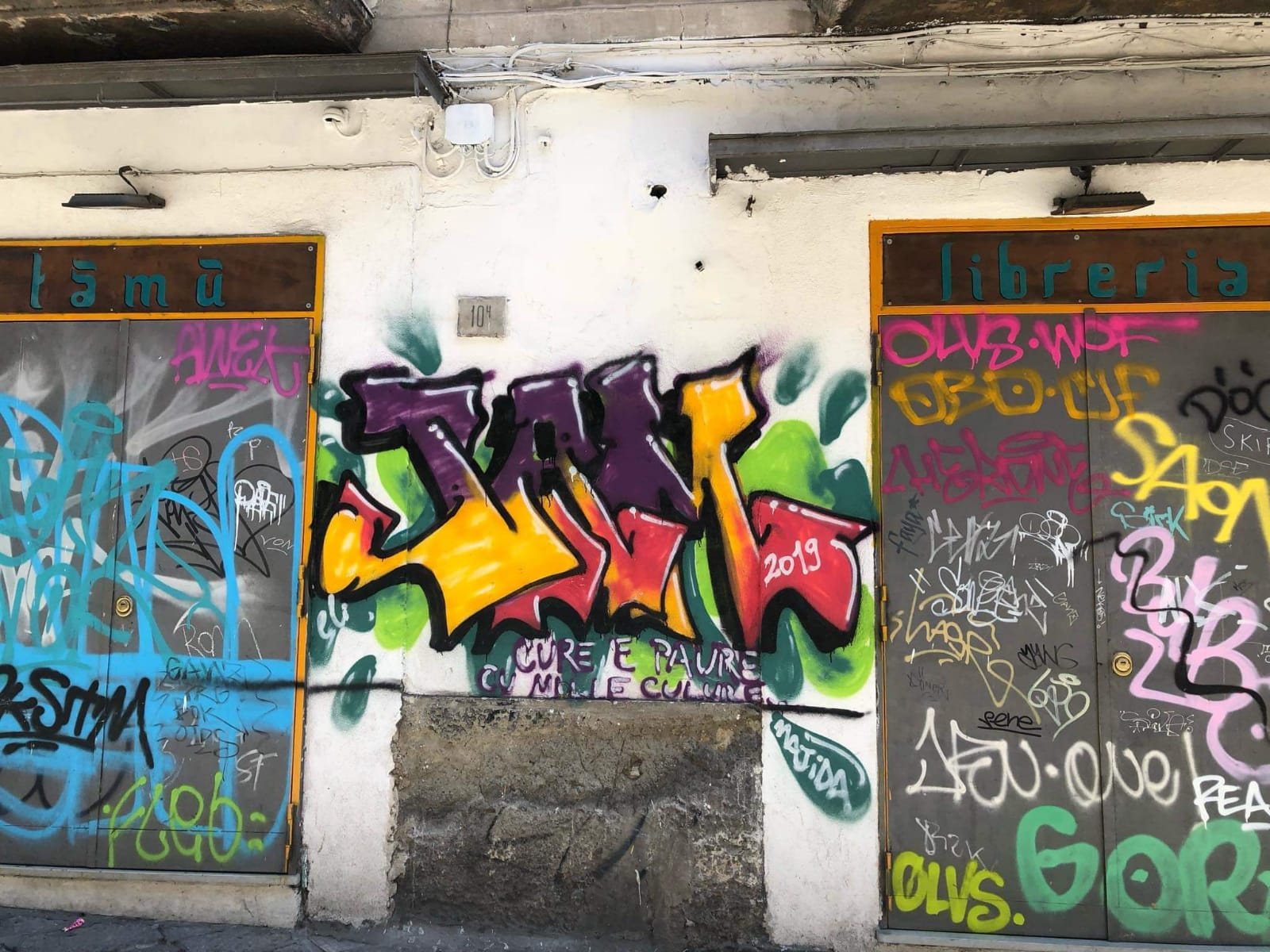 Tamu bookshop, Via Santa Chiara 10 / h, Naples. Photo of March 30, 2020.
These repercussions will be common to the world of work in different sectors, but it is important to remember it also with regard to publishing because it is one of the sectors in which the most recourse is made – especially large companies – to outsourcing, fake VAT numbers, free lance, and with wages among the lowest. If I dedicate only a few lines to this aspect, it is because I would like these professionals to take the word in person to open a debate on how the current situation is leading to the extreme criticalities that have been rooted for some time, and on how, once again, to try to overcome them together rather than sink more and more.
8. And in all this the new releases?
We are currently in limbo. The outputs are stopped because the launches in the library are skipped. Distributors do not accept supplies – neither of novelties nor of catalog titles – because the books in their warehouses are almost immobile. The only supplies are for the online stores and bookstores that with heroic efforts get by in the few deliveries.
It is not known when the shops will be accessible to the public again, so you may find yourself forced to release the books anyway, even if only in ebooks. It is a choice that would penalize some titles, which perhaps had been focusing on for some time, and also the relative authors, who counted on that issue.
Meanwhile, the editing and editorial work on the new features must go on, to avoid the risk of "bottlenecks" as soon as the bookstores reopen. Perhaps the small publishing houses that publish a limited number of titles per year will be able, with great effort, to avoid cutting production and sacrificing some of the planned books, each precious and carefully chosen. Also because reducing the number of issues, for those who publish little, would mean giving up a substantial percentage of their turnover.
Some large publishers, waiting to be able to print them, are already launching some news in the ebook, but given the amount of their publications they will be forced to cut many (probably following commercial and non-qualitative criteria), with damage to the bibliodiversity, in addition to that which follows for authors, translators and external collaborators who were working on the cassated books.
Despite these cuts, the risk that the market is clogged after the reopening of the bookstores is real. Already under normal conditions in Italy a huge amount of books are published: in 2018 there were 75,758 (more than two hundred a day), a completely disproportionate number that leaves serious doubts about how many they really deserved. This invasion is determined by the big publishers, which are less (about a seventh of the total) but publish four out of five titles. The Istat report on the books released in 2018states that among publishers "51.1% published a maximum number of 10 titles per year (" small publishers "), 33.8% between 11 and 50 works (" medium publishers ") and only the 15.2% have published more than 50 annual works ("large publishers"). The big publishers cover almost 80% of the production in terms of titles (79.4%) and 90% of the circulation ".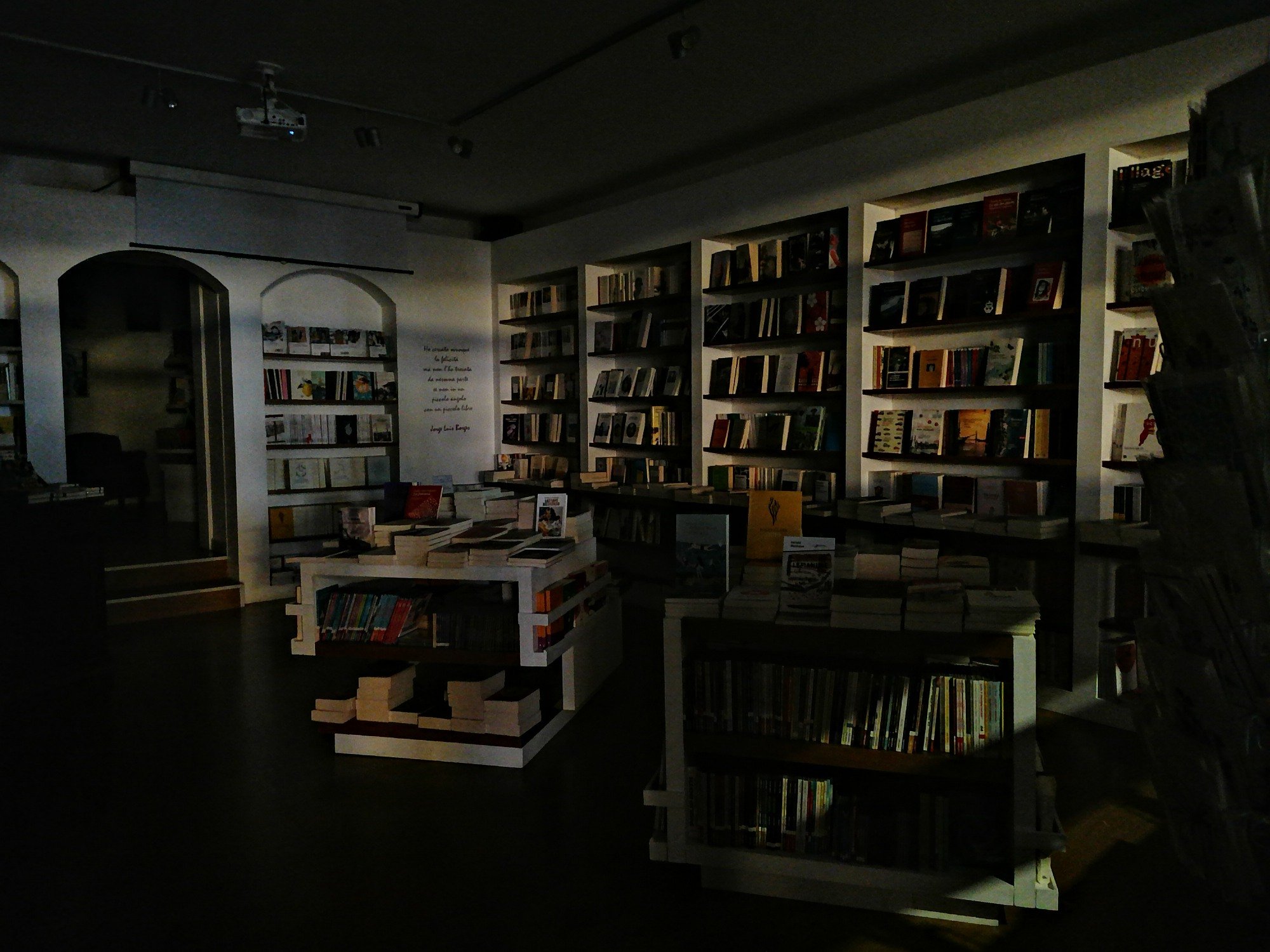 Tempo Ritrovato bookshop, Corso Garibaldi 17, Milan. Photo of March 30, 2020.
Such overproduction, combined with the difference in weight in terms of commercial power, visibility in the media, bargaining power with distributors and bookstore chains, regularly leads to a darkening of the books of children, literally submerged by those of adults.
When the bookstores reopen, the big publishers will publish numerous titles all together in a few weeks, accentuating this phenomenon and causing a further acceleration of one of the perverse mechanisms of the supply chain: the frenetic rotation of the titles on the shelves. In chain bookstores, if a novelty does not sell enough in the first three weeks, it is immediately returned and replaced by another. All for the benefit of the names of the scream, of the media authors and of the commercial best sellers, and to the detriment of research and quality production, with further damage to the already mortified bibliodiversity.
Not only that: the distributors, clogged, could unload an unsustainable amount of returns on us (blowing up the financial bubble between supplied and returned), including perhaps books that never really arrived at the bookstore because they were published close to the closure of March 12th.
The book market needs to decrease, but it should be a choice, with a higher qualitative selection upstream, a change of production paradigm for those who have always flooded it, and not the consequence of a mix between missed purchases, closed bookstores , and the senseless management of these weeks. An interweaving that on the contrary will only accelerate the already existing distortions.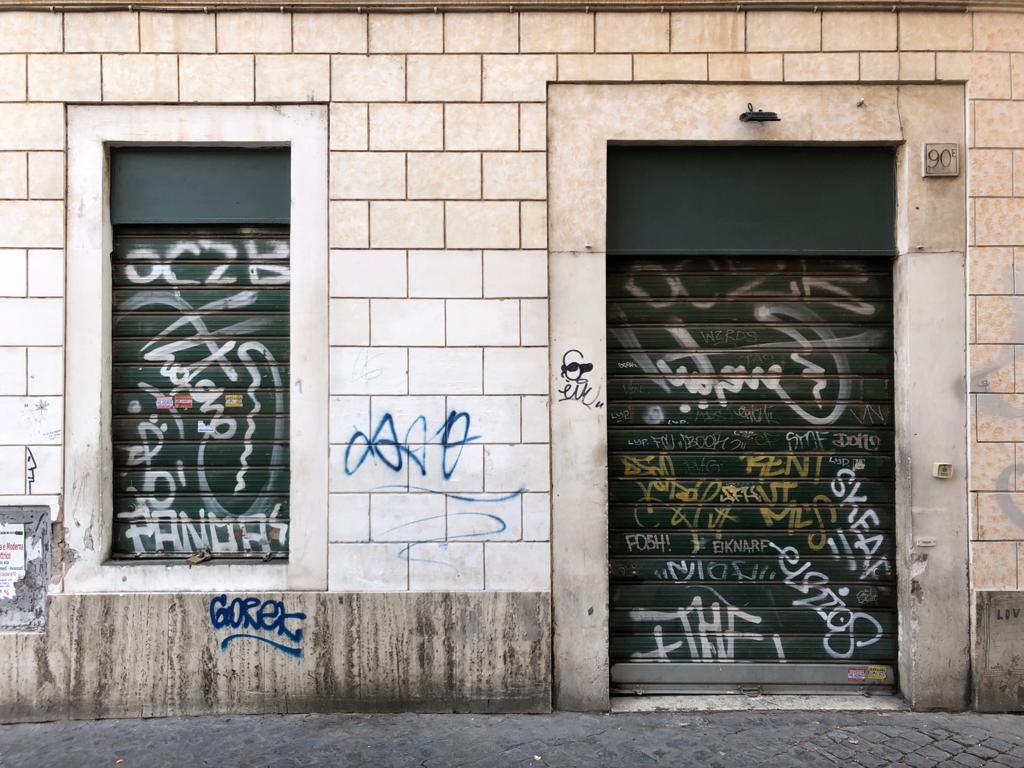 Trastevere bookshop, Via della Lungaretta 90 / e, Rome. Photo of March 30, 2020.
9. How to get out of it
After this crisis, strong support will be needed for all sectors of culture, which, however, should not be limited to appeals to go to the cinema, a museum, a theater, a concert, or to buy a book, downloading everything onto the users (too often identified as consumers). Both those who make culture and those who – seriously affected in their own way of life – will benefit from it, and the community should take charge of it with mechanisms for the redistribution of wealth, the fight against oligopoly situations, support mechanisms. income, both in general and specifically to workers and cultural workers, especially those who would not benefit from it as self-employed, occasional collaborators, VAT numbers, seasonal workers, or because they live on copyright, cachet or forms of income not from employees (actresses, musicians, writers), but also technicians, workers, graphic designers, set designers, shift workers, promoters, and in general all operators in the various supply chains.
Workers from cultural institutions – both public and private – such as museums and archaeological sites (but also from libraries), often outsourced or contracted to third parties, should be internalized. The circulation of culture should be encouraged with public spaces granted free of charge to publishers, musicians, actors, to organize presentations, events, performances, projections, concerts, and more. And the smaller and more troubled realities – theaters, cinemas, small publishers – deserve support without a grant. Everything should be financed by hitting taxation and wealth withdrawals who, in the various sectors, benefited from the situation (Amazon or Netflix, to give two examples), but also large non-cultural enterprises that have continued to make profits,
More generally, we should start a process of claims from below animated by the protagonists of cultural work, each with their own reflections, which begins to develop proposals to dismantle the distortions that, in one way or another, affect every sector benefiting a few large and crushing many little ones. The management of the coronavirus emergency has only accelerated the drift in place for some time and it is therefore the time to rethink the way in which culture is made and spread in Italy.
In our specific, the more general reflection on the publishing market will necessarily have to be approached with a comprehensive look on the supply chain, bringing together publishers and independent bookstores, authors and workers, especially without forgetting that notwe are all in this together. The large publishing groups, distribution and chain bookstores will suffer less of the backlash (and the online stores for nothing, on the contrary) and despite this, to guarantee their profits, they will try to take advantage of the situation by intensifying the mechanisms advantageous for them. On the labor front, large publishers are likely to make layoffs, cuts to collaborators, and outsourcing. On the market front, bookstores will flood even more with outlets of dubious quality, trying to nibble as little as possible on the smallest market share. And it is not excluded that there will be new business concentrations that will give birth to even more mammoth giants.
As for distribution, it will try to make up for itself by imposing even more last- minute contracts , asking for ever higher percentages on the cover prices. The chain bookstores will focus further only on the few highly successful media and commercial titles, risking less and less exposure to the quality but less easily sold ones.
Independent publishers and bookstores, authors and authors, workers and publishing workers, must try to imagine collective, horizontal and bottom-up mechanisms of resistance, forms of collaboration that already begin to prefigure new ways of making and spreading culture, and claim structural corrections to the supply chain. To free Sisyphus from the chains of his effort and transform publishing in a place of emancipation and conflict.
* Pietro De Vivo is a fiction and non-fiction editor for the Alegre editions , administrator of the Telegram channel of the publishing house and deputy director of the Quinto Tipo series directed by Wu Ming 1. When he finds the time, he writes books on Il lavoro Culturale . He is the author of one of Giap's most visited and commented posts since this blog exists: "It is the fault of those like you if there is contagion!". Abuse in uniform and strategy of the scapegoat in the days of the coronavirus .